Posts for: October, 2019
By New Haven Dental
October 15, 2019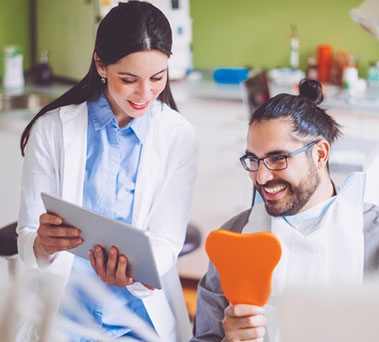 To have a beautiful, healthy smile you'll need to keep those pearly whites clean and plaque-free. Good dental hygiene, though, isn't a solo act: It's a duet best performed by you and your dental health provider. While you're responsible for brushing and flossing every day, your dental hygienist gives your teeth a thorough cleaning every six months (or more). The American Dental Hygienists Association commemorates every October as National Dental Hygiene Month to recognize both the importance of hygiene and the professionals who assist you in keeping your teeth as clean as possible.
The focus for this emphasis on brushing, flossing and professional cleaning? A slick, slimy substance called dental plaque. This thin film of bacteria and food particles builds up on tooth surfaces after eating and gives rise to infections that cause tooth decay and gum disease. And it doesn't take long without proper brushing and flossing, for a gum infection called gingivitis to start in only a matter of days. Daily hygiene reduces your risk of that happening: Brushing removes plaque from the broad, biting surfaces of the teeth, while flossing takes care of the areas between teeth that brushing can't access.
So, if you can remove most of the plaque yourself, why see a dental hygienist? For two reasons: First, while daily hygiene takes care of the lion's share of plaque, it's difficult to clear away all of it. Over time, even a small amount of missed plaque can increase your disease risk. However, a professional cleaning that uses special hand tools and ultrasonic equipment can easily clean away this leftover plaque.
Second, some of the soft plaque can interact with saliva to form a hardened, calcified form called calculus or tartar. It can harbor bacteria just like the softer version, and it's next to impossible to dislodge with brushing and flossing. Again, a trained hygienist with the right tools can effectively break up and remove calculus.
There are also additional benefits that come from regular dental visits to your hygienist. For one, hygienists can provide practical instruction and tips to help you brush and floss more effectively. And, after cleaning your teeth, they can point out areas with heavy plaque and calculus deposits. That can help you focus more of your future brushing and flossing efforts on those areas.
So, a shout-out to all the dental hygienists out there: These dedicated professionals work hard to keep your teeth clean. And a big high-five to you, too: Without your daily commitment to brushing and flossing, your smile wouldn't be as beautiful—and healthy.
If you would like more information about best dental hygiene practices, please contact us to schedule a consultation. To learn more, read the Dear Doctor magazine articles "Dental Hygiene Visit" and "10 Tips for Daily Oral Care at Home."
By New Haven Dental
October 05, 2019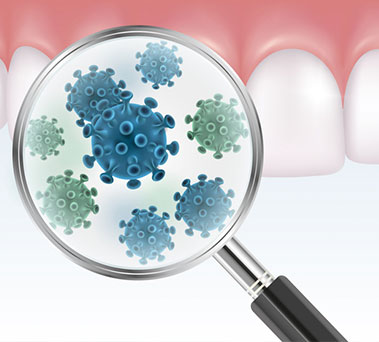 Say "bacteria," especially in the same sentence with "disease" or "infection," and you may trigger an immediate stampede for the hand sanitizer. The last thing most people want is to come in contact with these "menacing" microorganisms.
If that describes you, however, you're too late. If you're of adult age, there are already 100 trillion of these single-celled organisms in and on your body, outnumbering your own cells 10 to 1. But don't panic: Of these 10,000-plus species only a handful can cause you harm—most are either harmless or beneficial, including in your mouth.
Thanks to recent research, we know quite a bit about the different kinds of bacteria in the mouth and what they're doing. We've also learned that the mouth's microbiome (the interactive environment of microscopic organisms in a particular location) develops over time, especially during our formative years. New mothers, for example, pass on hundreds of beneficial species of bacteria to their babies via their breast milk.
As our exposure to different bacteria grows, our immune system is also developing—not only fighting bacteria that pose a threat, but also learning to recognize benevolent species. All these factors over time result in a sophisticated, interrelated bacterial environment unique to every individual.
Of course, it isn't all sweetness and light in this microscopic world. The few harmful oral bacteria, especially those that trigger tooth decay or periodontal (gum) disease, can cause enormous, irreparable damage to the teeth and gums. It's our goal as dentists to treat these diseases and, when necessary, fight against harmful microorganisms with antibacterial agents and antibiotics.
But our growing knowledge of this "secret world" of bacteria is now influencing how we approach dental treatment. A generalized application of antibiotics, for example, could harm beneficial bacteria as well as harmful ones. In trying to do good we may run the risk of disrupting the mouth's microbiome balance—with adverse results on a patient's long-term oral health.
The treatment strategies of the future will take this into account. While stopping dental disease will remain the top priority, the treatments of the future will seek to do it without harming the delicate balance of the mouth's microbiome.
If you would like more information on the role of bacteria in oral health, please contact us or schedule an appointment for a consultation. You can also learn more about this topic by reading the Dear Doctor magazine article "New Research Show Bacteria Essential to Health."