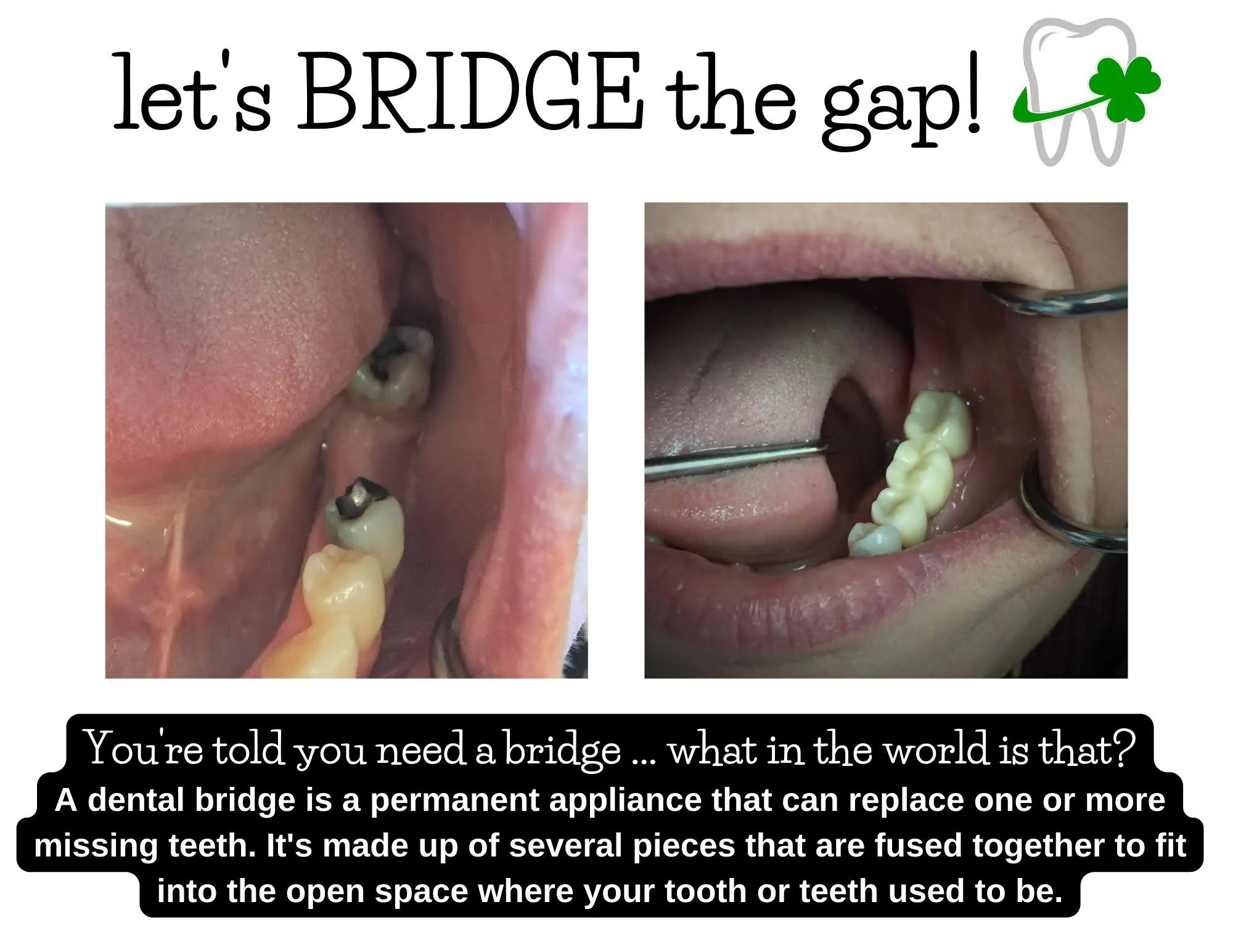 ---
WHAT IS A DENTAL BRIDGE?
A dental bridge can fill the space with one or multiple teeth.

---
WHY DO I NEED A DENTAL BRIDGE?
Your teeth work in a partnership. If a tooth is missing, adjacent teeth can move into the empty space. The teeth in your opposite jaw can also move up or down toward the space. This can cause:
Discomfort and aching from the additional stress on your teeth and jaw.
Self-consciousness about your smile or the way you look.
---
HOW DO I CLEAN AND CARE FOR MY DENTAL BRIDGE?
Taking proper care of a dental bridge isn't that different from caring for your natural teeth. While flossing a bridge, it's required to floss around your natural teeth . Floss the abutment teeth, the crowns over your natural teeth, as well as the "floating" tooth the pontic. Flossing is the most effective way to remove plaque and debris from the underside of a bridge, especially after eating.

Traditional floss and floss threaders to go under the pontic tooth are sufficient in cleaning. However, many patients with dental bridges prefer the convenience of Waterpiks. A Waterpik is a device that aims a stream of water at your teeth. Waterpicks can aid in removing food particles from your teeth and might help reduce bleeding and gum disease . Ask your dental hygienist for more details at your next cleaning appointment at New Haven Dental!
A Waterpik is a smart investment to expand the life of your bridge.
---
I HAVE MULTIPLE TEETH MISSING IN ROW... WHAT NOW?
A fixed implant bridge may be an option to replace multiple teeth that are missing in row.